Android: Not getting your calls?
On smartphones, notifications of new messages and calls are sent by sending a PUSH notification to the phone, upon which the phone wakes up and receives the call or message. Like other apps, the 3CX Android App relies on receiving these PUSH notifications. These PUSH notifications are generally sent out by Google, although Huawei and Samsung are now also sending out PUSH notifications. 3CX supports Google PUSH only for the moment. This is default behaviour and there is nothing you need to or can do to change this.
So if you are receiving the calls but it's not ringing when your phone is in sleep mode, then you are not receiving PUSH notifications. There are several checks you can do to try and fix this
It's obvious, but check first that the 3CX App has network connectivity. You can switch off mobile data for some apps, obviously it needs to be on for 3CX to work.
Check 1: Are you using the right phone, latest Android and 3CX?
To have good results, you will need to use a quality phone with a recent version of Android:
Android 10+ – Check that you have Android 10 or above. Should really be at least Android 11.
Recent quality phone – Ensure you have a quality phone from Google, Samsung, Oppo, Motorola, Oneplus for example. No-name China phones can cause problems. It's not just the hardware it's also the version of Android that gets installed on it and the agreements (or lack of agreements) they might have with Google in regards to Play Store and Push.
3CX V18 – Upgrade to v18 to get significant improvements in terms of using mobile phones with 3CX.
Please note we will only support the latest versions of phones, Android and 3CX. We allow installation of the app on Android 8 or 9, but we will not support or troubleshoot.
Check 2: Switch off battery optimization
Some versions of Android have battery optimization settings turned on that terminate background apps, including 3CX of course. We need to switch that off: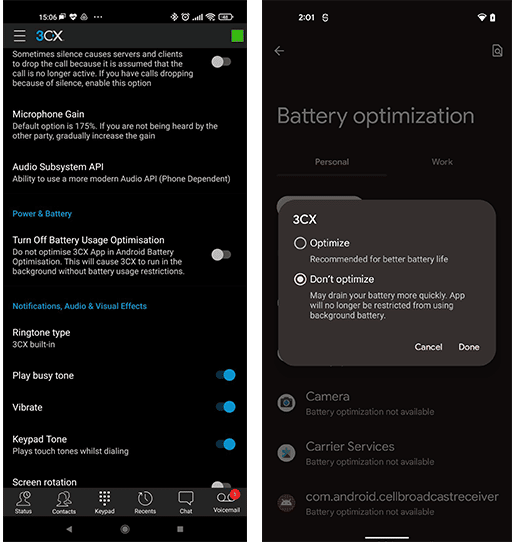 Launch "3CX".
Tap on the top left hamburger menu.
Tap on "Advanced"
Enable "Turn off Battery Usage Optimisation".
Select "Don't Optimize / Unrestricted" (Name differs on Android versions and Phones)
Please note for Oppo you should follow the steps below :
Look for the Settings App.
Tap on "App management".
Tap on "App list".
Find "3CX."
Tap on "Battery Usage".
Enable "Allow background activity".
Check 3: Switch on Background Data for the 3CX App
Enabling background data is required for providing you notifications even when the app is not in use. We need to switch that on: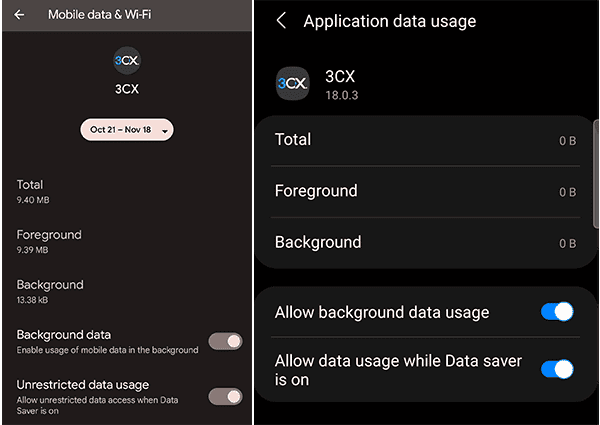 Look for the "Settings" App.
Tap Apps (Name differs on Android versions and Phones)
On Samsung ("Settings > Apps > 3CX > Mobile data > Allow background data usage")
On Oppo ("Settings > App list > 3CX > Data usage details > Enable background data")
Find "3CX".
Tab "Mobile data & Wi-Fi".
Select "Unrestricted data/Background data".
If all else fails – Enable "Keep Active" feature
If for some reason you cannot get Push to work, because you cannot change your phone or manage the network you are on, then you can temporarily enable the "Keep Active" function. This will keep a permanent connection open to your 3CX server. Battery usage will be significantly increased.