This looks to be a great headset for using multiple devices. I love that it charges your mobile wirelessly while you work. If interested, please contact us for more information.
XIAMEN, CHINA, 22 OCTOBER 2021 – Yealink, a global leading provider of enterprise communication and collaboration solutions, today announced the integration of WH6X DECT Wireless Headset with 3CX (version 18), an exciting start to deliver a greater experience for UC communication scenarios.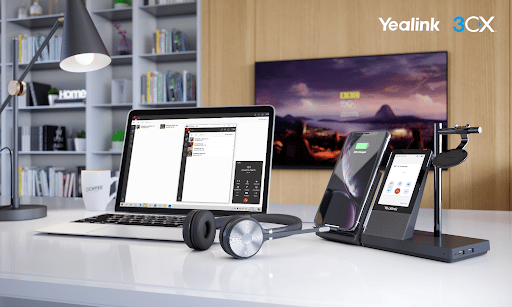 The Yealink WH6X DECT Wireless Headset Series, combining a highly compact design with a rich voice communication performance, is dedicated to all users in private or co-working spaces with an immersive voice communication experience. The seamless integration of 3CX and WH6X headsets will help enhance the phone using experience. Together they can offer superior voice quality, call control and free-moving capabilities, resulting in boosted productivity and work flexibility.
Lee, Product Marketing Director of Yealink said:
"We are so delighted to explore more possibilities in personal UC scenarios with premium user experience together with 3CX… We also expect further cooperation with 3CX to provide a more flexible and reliable personal collaboration experience."

Stefan Walther, CEO of 3CX added:
"3CX is renowned for being a full-featured, yet cost-effective communication solution. Through the seamless integration with Yealink's high-quality yet low-cost headsets, we can continue to offer our users great value for money."
About 3CX (www.3cx.com)
3CX is the developer of an open standards communications solution which innovates business connectivity and collaboration, replacing proprietary PBXs. The award-winning software enables companies of all sizes to cut telco costs, boost employee productivity, and enhance the customer experience.
With integrated video conferencing, apps for Android and iOS, website live chat, SMS and Facebook Messaging integration, 3CX offers companies a complete communications package out of the box.
600,000 customers worldwide use 3CX including McDonalds, Hugo Boss, Ramada Plaza Antwerp, Harley Davidson, Wilson Sporting Goods and Pepsi. Maintaining its global presence, 3CX has offices in the U.S., U.K., Germany, South Africa, Russia and Australia. Visit 3CX on LinkedIn, Facebook and Twitter.
About Yealink (www.yealink.com)
Yealink (Stock Code: 300628) is a global brand that specializes in video conferencing, voice communications and collaboration solutions with best-in-class quality, innovative technology and user-friendly experience. As one of the best providers in more than 140 countries and regions, Yealink ranks No.1 in the global market share of SIP phone shipments (Global IP Desktop Phone Growth Excellence Leadership Award Report, Frost & Sullivan, 2020). For more information, please visit: www.yealink.com | LinkedIn | Facebook | Twitter | YouTube